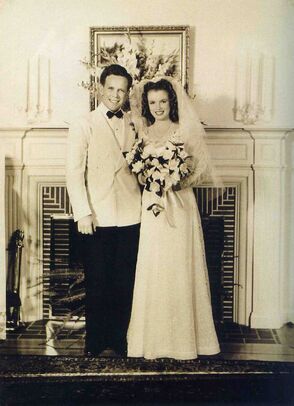 Grace McKee
James Edward Dougherty (April 12, 1921 – August 15, 2005) was Marilyn's first husband. In 1947 he remarried Patricia Scoman and became a policeman with LAPD. He wrote two books about his relationship with Marilyn, and gave several interviews about their life together.


Marriage
Edit
A note in Westwood Hills Press announced that Norma Jeane Baker, niece of Mrs. Ana Lower, was to marry James E. Dougherty at 8.30 pm on Friday, June 19, 1942, at the home of the bride's uncle and aunt, Mr. and Mrs. Chester Howell.
"She liked to cook green peas and carrots a lot, because she said they looked pretty on a plate. We didn't go for them very much, but we had them pretty often because she thought they looked pretty."
"When I first met her she was going to Union High School... We were introduced by her foster aunt, and went out together about six months before we got married."
"Being an actress wasn't even on her mind then. She wasn't one of those movie struck kids. We had a nice little apartment and she made an average housewife. Staying home nights seemed something she liked. She never was harping we should go out dancing or nightclubbing.
What did it was that I got into the Merchant Marine and was going overseas. She had started working as a model and somebody offered her a contract in Hollywood. She told me they said she had to be single to be an actress.
"The bare fact is that I now am unable to remember one outstanding thing about that marriage. I'm much happier with my present wife than I ever was... Marilyn never wanted children... Now I guess she changed her mind."
[1]
↑ The Miami News, Jan 16, 1954